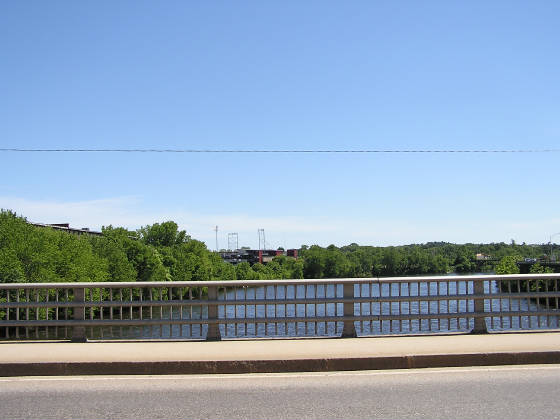 TEAM ::: NEW HAMPSHIRE FISHER CATS
LOCATION ::: MANCHESTER, NEW HAMPSHIRE
MY FIRST VISIT ::: JUNE 23, 2005
OPPONENT ::: ERIE SEA WOLVES
LEVEL ::: EASTERN LEAGUE (AA)
FORMERLY KNOWN AS ::: FISHER CATS BALLPARK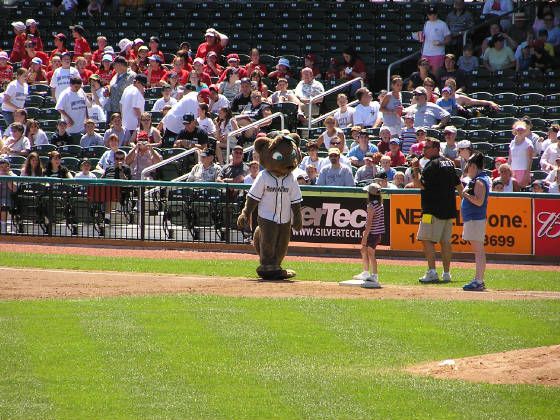 RATINGS

BALLFIELD ::: A+
SCOREBOARD ::: B
FOOD ::: C
FACILITIES ::: B-
MASCOT ::: B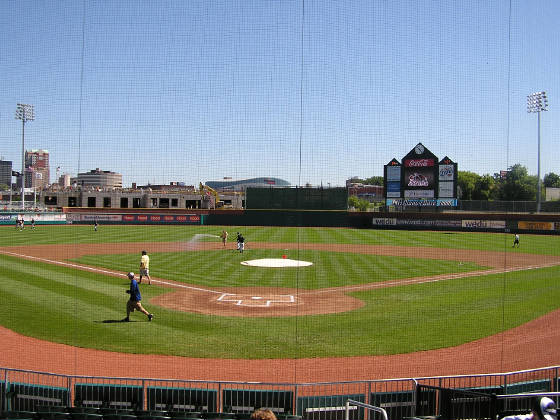 MY TAKE ON THE PARK
IF EVER THERE WAS A PLACE THAT "WASN'T DONE" YET, THIS IS IT. THE PARK, OH THAT IS FINISHED BUT THE SURROUNDING AREA IS STILL UNDER CONSTRUCTION AS OF MY JUNE 2005 VISIT. I WISH I COULD HAVE SEEN THE PLANS BECAUSE WITH THE PARK, THIS AREA OF MANCHESTER IS GOING TO HAVE A LOT GOING ON.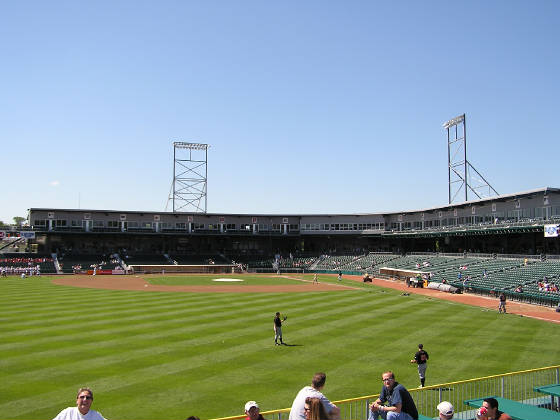 A SURPRISE TO ME WAS THIS IS REALLY THE FIRST MINOR LEAGUE PARK I HAD GONE TO THAT DID NOT CONSIDER PARKING. THERE IS NO PARKING AT THE STADIUM. FROM WHAT I WAS TOLD, THE CITY HANDLES ALL OF THE PARKING SO COME PREPARED WITH QUARTERS. IF YOU WANT TO PARK RIGHT NEXT TO THE STADIUM, A DIRT LOT IS AVAILABLE FOR $10. THIS IS NOT NECESSARY BECAUSE 1 BLOCK AWAY IS THE FIRST OF WHAT I UNDERSTAND ARE MANY CITY LOTS. THE CITY LOTS ARE METERED AND 25 CENTS GETS YOU AN HOUR, FIGURE THE GAME LASTS 3 HOURS AND YOU'LL WANT A LITTLE EXTRA TIME SO PARKING WORKS OUT TO $1 AND A LITTLE WALK.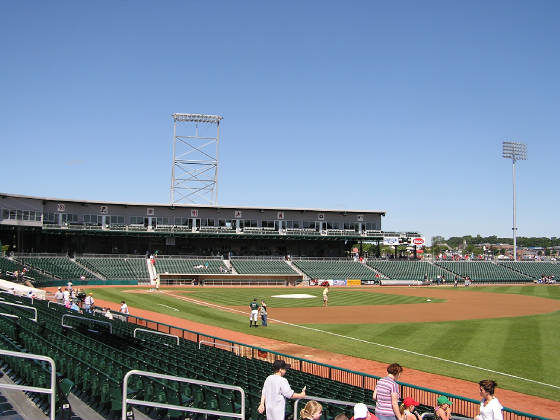 AS FOR THE PARK, THE DESIGN IS AN IMPROVED NORWICH IDEA WHERE YOU HAVE THE MAIN CONCOURSE WITH A FULL VIEW OF THE FIELD THE ALL THE WAY AROUND. YOU ENTER FROM THE OUTFIELD AND WALK UP A FLIGHT OF STAIRS TO THE CONCOURSE PUTTING YOU IN LEFT FIELD. A FEW FEET PAST THE PROGRAM SELLER IS A NICE VIEW OF THE RIVER. UNLIKE IN TRENTON WHERE RIGHT FIELD LOOKS ONTO THE RIVER, HERE THE RIVER IS NOT EVEN USED.
THE FIELD HERE IS FLAWLESS, A PERFECT DEEP GREEN WHICH LOOKS GREAT. SURROUNDING THE FIELD IS A ONE LEVEL SEATING AREA WITH COMFORTABLE CHAIRS AND CUP HOLDERS FOR ALL. DOWN THE RIGHT FIELD LINE IS A SECTION OF METAL BLEACHERS FOR GEN ADMISSION SEATING.
THE OUTFIELD WALL IS A NEAT DESIGN, IT DOESN'T HAVE THE LEVELS OF ADVERTISING FOUND ELSEWHERE, HERE THERE ARE ROLLING ADS WITHIN THE WALL, GIVING THE PLACE A MORE PURE BASEBALL FEELING TO IT. JUST ABOVE THE DARK GREEN WALL IS A BRICK WALL, WHICH IS IN PLAY, ALSO A NICE TOUCH.
ABOVE THE WALL IN CENTER IS A HARD WORKING SCOREBOARD WHICH HANDLES THE GAME WELL. IT IS AN ALL VIDEO BOARD SO THE LINE SCORE COMES DOWN BETWEEN INNINGS, BUT THE LINE UPS AND ANY QUESTIONABLE SCORING WENT UP QUICKLY. I JUST THINK THIS BOARD COULD USE A HAND, MAYBE ANOTHER BOARD ON THE FUTURE HOTEL??
AS OF JUNE 2005, MORE OF THE EXTERIOR WORK IN PROGRESS. A HOTEL IS GOING UP JUST BEYOND THE WALL IN LEFT, THE FISHER CATS ARE THE DOUBLE A AFFILIATE OF THE BLUE JAYS. PORTLAND BUILT A 37' WALL WHEN THEY AFFILIATED WITH THE RED SOX, NEW HAMPSHIRE IS BUILDING A HOTEL LIKE THERE PARENT CLUB HAS IN THERE OUTFIELD.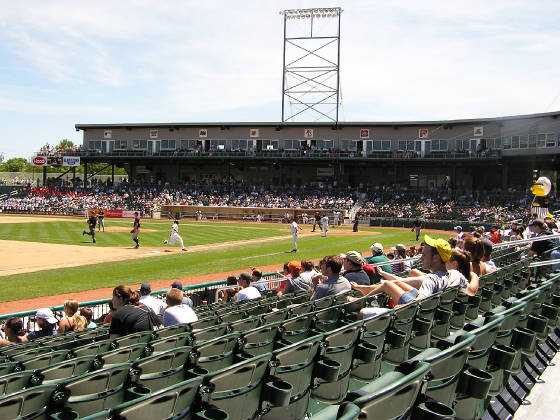 A TRIP TO NEW NEW HAMPSHIRE IS ONE I WILL HAVE TO MAKE AGAIN. IF FOR NO OTHER REASON THAN TO SEE THE FINISHED PRODUCT. ALSO, I'M THINKING THE NAME "FISHER CATS BALLPARK" MAY CHANGE AS WELL, HOWEVER, THE CLEARLY MARKED ROUTE THROUGH MANCHESTER DOES READ "FISHER CATS BALLPARK" SO I COULD BE WRONG. I HOPE I'M WRONG.
JUST REMEMBER TO BRING QUARTERS FOR THE METER, THEN TAKE A STROLL THROUGH AN EXPANDING DOWNTOWN AREA OF MANCHESTER TO A FINE NEW EASTERN LEAGUE BALLPARK.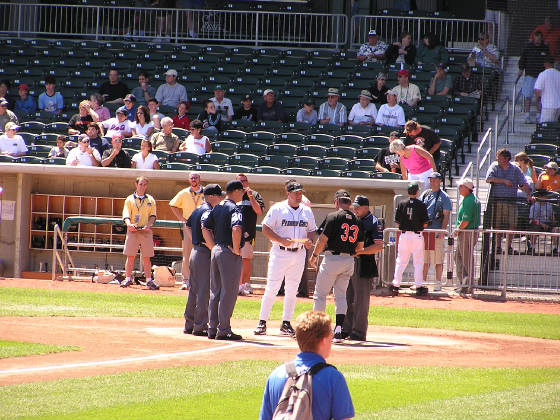 LINE UPS

ERIE SEA WOLVES MANAGER
33 DUFFY DYER

NEW HAMPSHIRE FISHER CATS MANAGER
35 MIKE BASSO

ERIE SEA WOLVES

12 Juan Francia 2b
1 Scott Tousa ss
23 Juan Tejada dh
24 Don Kelly 3b
43 Byron Gettis rf
28 Victor Mendez cf
10 Chris Maples 1b
20 Mike Rabelo c
7 Mike Woods lf
31 Jeremy Johnson p / LP

NEW HAMPSHIRE FISHER CATS

25 Miguel Negron cf
5 Ryan Roberts 2b
30 Clint Johnston 1b
10 Maikel Jova rf
21 Ron Davenport dh
12 Ron Acuna lf
14 Rob Cosby 3b
16 Eirk Kratz c
8 Raul Tablado ss
24 Josh Banks p / WP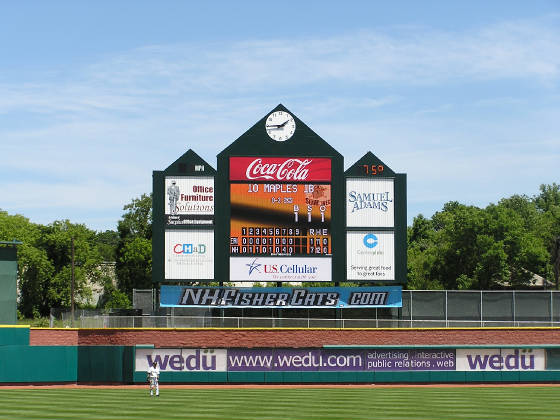 SEA WOLVES 000 010 000 1 11 1
FISHER CATS 011 010 40x 7 12 0

TIME ::: 2:38
ATTENDANCE ::: 3,216
WEATHER ::: 75 SUNNY / CLEAR
SEND ME AN E-MAIL

LINKS
The Official web site of the New Hampshire Fisher Cats
The Christa McAuliffe Planetarium site
Located about 1 block from the park, Jillian's restaurant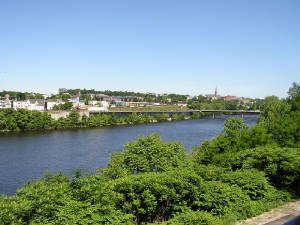 This page last updated::

© 2000-2009 UNCLE BOB'S BALLPARKS
I AM IN NO WAY AFFILIATED WITH ANY OF THE TEAMS ON THIS PAGE ... THIS PAGE IS MEANT FOR INFORMATION PURPOSES ONLY.