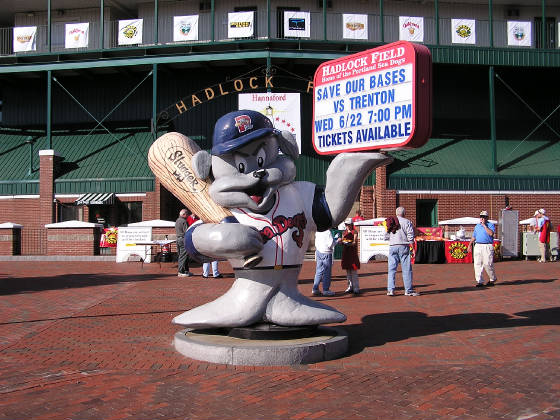 TEAM ::: PORTLAND SEA DOGS
LOCATION ::: PORTLAND, MAINE
MY FIRST GAME ::: JUNE 22, 2005
OPPONENT ::: TRENTON THUNDER
LEVEL ::: EASTERN LEAGUE (AA)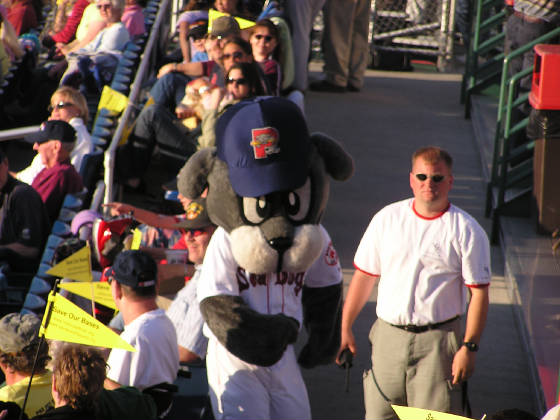 RATINGS

BALLFIELD ... A

SCOREBOARD ... B

FOOD ... B+

FACILITIES ... C+

WEB SITE ... B

MASCOT ::: A+++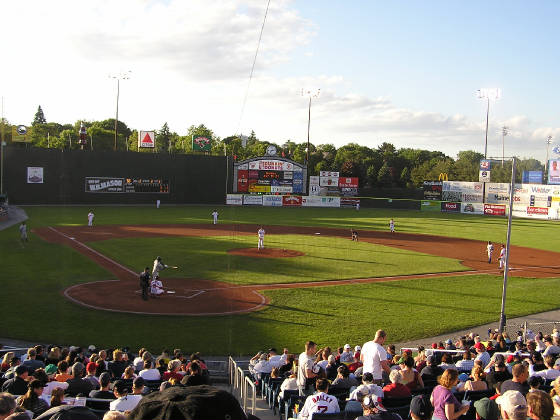 MY TAKE ON THE PARK
IN 1994 PROFESSIONAL BASEBALL RETURNED TO THE STATE OF MAINE. THE NEW TEAM, THE PORTLAND SEA DOGS, BROUGHT A SUPER LOGO, AN EVEN BETTER MASCOT, AND FOR THE PEOPLE OF MAINE, A MEDIOCRE STADIUM.
WHEN BASEBALL RETURNED, NOBODY COULD HAVE ANTICIPATED THE SUPPORT THAT THE SEA DOGS HAVE RECIEVED, IF SO, THEY MAY HAVE CHOSE A BETTER LOCATION AND A BIGGER PLACE TO CALL HOME.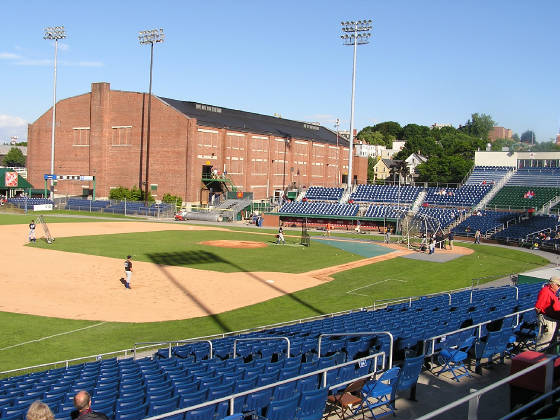 THIS VERY SMALL PARK IS CONVIENIENTLY LOCATED RIGHT OFF I-295 IN THE CITY OF PORTLAND. I'VE BEEN TOLD PORTLAND IS A BEAUTIFUL CITY BUT IF THE 4 BLOCKS AROUND THE BALLPARK ARE ANY INDICATION, IT IS NOT. SURROUNDED BY SMALL LOTS ALL ADVERTISING $5 PARKING SITS HADLOCK FIELD, IF YOU ARE EARLY ENOUGH YOU MAY GET TO PARK IN ONE OF THE 20 SPACES AT THE ICE RINK NEXT STORE.
ONCE YOU LEAVE YOUR CAR, HEAD ON TO THE LONE ENTRANCE TO THE STADIUM AND INTO A PRETTY DARK CONCOURSE WHICH IS FILLED WITH CONCESSION ITEMS. FOR THE CLAUSTROPHOBIC, AT THE END OF THE FIRST BASE SIDE IS A GRILL WHICH MAKES A VERY GOOD CHEESE STAEK SANDWICH.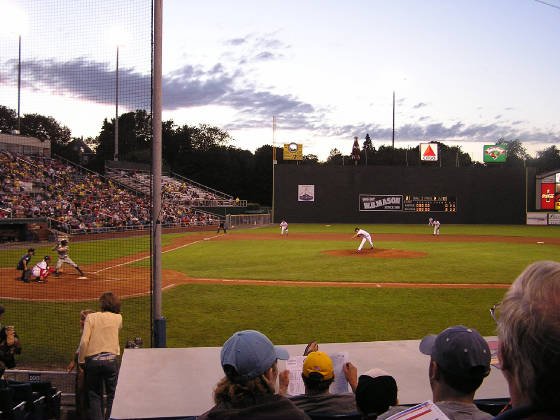 ON THE FIRST BASE SIDE, THERE ISN'T MUCH MORE THAN THE GRILL DUE TO THE ICE RINK THAT CUTE OFF THE SEATING, SO GO OUT AND TAKE A LOOK AT THE FIELD. THE FIELD IS IN VERY GOOD CONDITION, CONSIDERING THE WEATHER IN MAINE. THE SEATING BOWL AROUND IT LOOKS MUCH OLDER THAN IT SHOULD. IT WAS BUILT IN THE EARLY NINETIES YET THE BACK SIX ROWS ARE ALUMINUM BLEACHERS. THE CROWDS THE SEA DOGS GET DESERVE A BETTER PLACE TO SEE A GAME.
A STRIKING NEW FEATURE OF THIS PARK IS IN LEFT FIELD .. AND TO ME IT MAKES A LOT OF SENSE. IN LEFT THEY HAVE A 37 FOOT "MAINE MONSTER" TO PREPARE PORTLND'S PLAYERS FOR THE PARENT CLUB. NOT ONLY IS IT THE SAME HEIGHT (NOT THE SAME LENGTH) BUT THERE ARE NO ADS COVERING THE BOARD AND TO GIVE IT MORE OF THAT "FENWAY" FEEL, THERE IS A "CITGO" SIGN AND A "COCA-COLA" BOTTLE. A REAL NICE TOUCH.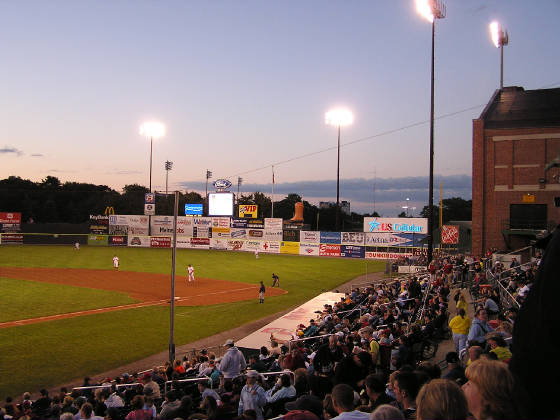 WHAT MAKES THIS PARK MORE LIVELIER THAN MOST IS THE MASCOT, SLUGGER. SLUGGER HITS THE FIELD ABOUT 15 MINUTES BEFORE THE GAME AND IS TIRELESS AS HE MAKES HIS WAY THROUGHOUT THE STADIUM. THERE IS A MISCHIEVIOUS PERSONALITY ABOUT HIM AS WELL AS A HEAD THAT CANNOT BE MATCHED. BECAUSE HE HAS FLIPPERS, HE WON'T BE SLOWED DOWN BY AUTOGRAPHS, HE CAN'T HOLD THE PEN. ALL OF THIS MAKES FOR A SUPER ENERGETIC PERFORMANCE BY SLUGGER. BY THE WAY, IF YOU WEAR THE HAT FROM THE OPPOSITION, WATCH OUT WHEN SLUGGER IS AROUND. HE WILL TAKE IT!
SPEAKING OF TAKING IT, THERE ARE ALSO ROAMNG "GARBAGE MONSTERS" WHO WALK AROUND THE PARK LOOKING FOR TRASH. THIS IS AN ORIGINAL AND FUN WAY TO KEEP THE PLACE CLEAN.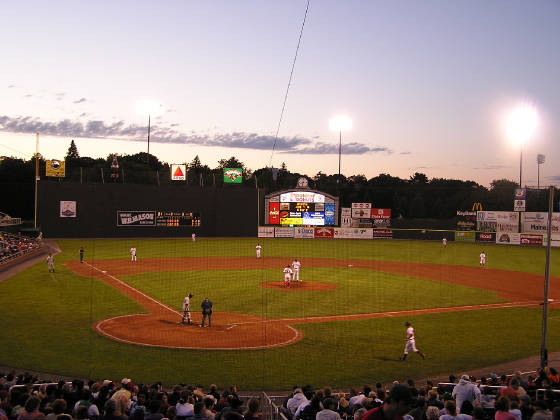 A TRIP TO HADLOCK FIELD MAY NOT BE THE BEST IN THE EASTERN LEAGUE, BUT BECAUSE OF THE MASCOT IT IS NEVER DULL. ALSO, THE PEOPLE OF NEW ENGLAND DON'T SEEM TO MIND MUCH SINCE OVER AND OVER YOU HEAR "WORLD CHAMPION RED SOX".
THE PARKING IS STEEP AT $5 AND BECAUSE THERE IS ONLY ONE EXIT AND THE PEOPLE HERE DO NOT LEAVE EARLY, IT ISN'T A VERY CONVIENENT PARK. BUT, THE FOOD IS VERY GOOD, TRYING THE SEA DOG BISCUIT IS A MUST, VENDORS WILL BE AROUND OFTEN WITH THEM. FOR $2.25 YOU GET AN ICE CREAM SANDWICH MADE WITH 2 VERY CRUNCHY COOKIES. THE VENDORS HERE ARE PLENTIFUL SO YOU WON'T HAVE TO VENTURE UNDER THE STANDS AND LOSE A VIEW OF THE GAME TO GET A BEVERAGE.
THE ICE RINK ON THE FIRST BASE SIDE WARNS YOU TO WATCH FOR FALLING ICE, GOING TO A GAME HERE IN EARLY APRIL MUST BE HAZARDOUS. THE RINK ALSO DOES NOT DO WHAT I THINK WAS INTENDED HERE, IT BASICALLY JUST TAKES UP A LOT OF SEATS THAT WOULD BE FILLED IF NOT THERE.
AFTER SEEING AN AERIAL VIEW OF THE PARK, I WONDERED WHY A MORE SCENIC LOCATION WASN'T CHOSEN .. THERE IS A LOT OF WATER IN PORTLAND AND A LIGHTHOUSE WHICH COULD HAVE BEEN A PERMANANT FIXTURE AS OPPOSED TO THE ONE THAT SHOOTS FIREWORKS WHEN THE SEA DOGS HIT A HOME RUN.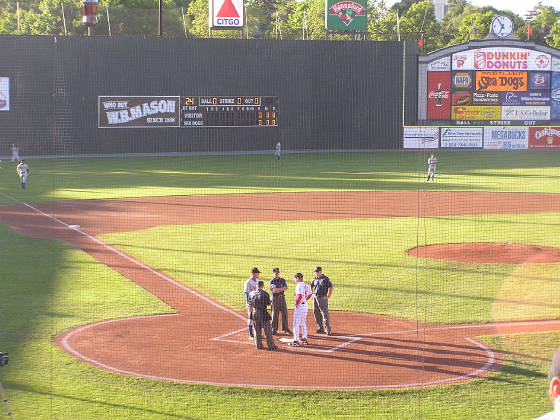 LINE UPS

TRENTON THUNDER MANAGER
30 BILL MASSE

PORTLAND SEA DOGS MANAGER
5 TODD CLAUS

TRENTON THUNDER
24 Kevin Thompson lf
21 JT Stotts 2b
53 Melky Cabrera cf
36 Yobal Duenas dh
12 Eric Duncan 3b
26 Omir Santos c
17 Eric Crozier rf
57 Ramiro Pena ss
63 Ramon Ramirez p / LP

PORTLAND SEA DOGS
23 Raul Nieves 3b
6 Kenny Perez 2b
2 Hanley Ramirez ss
28 Jared Sandberg dh
3 Brandon Moss rf
34 Jeff Bailey 1b
22 Chris Durban lf
18 David Murphy cf
11 Alberto Concepction
13 Kason Gabbard p / WP
39 Marc Deschenes S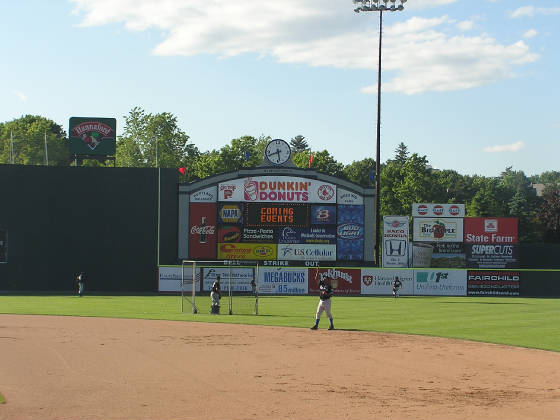 TRENTON THUNDER 000 000 000 0 3 0

PORTLAND SEA DOGS 200 000 000 2 5 2

TIME ::: 2:23
ATTENDANCE ::: 6,862
WEATHER ::: 68 CLEAR SUNNY



LINKS
The Official web site of the Portland Sea Dogs
Right on I-95 .. A comfortable place to stay in Maine
In Wells, Maine .. The Maine Diner
Portland weather from WEATHER.com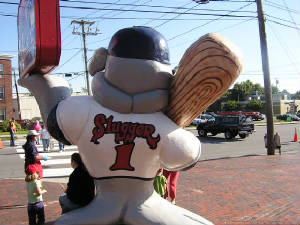 © 2000-2012 UNCLE BOB'S BALLPARKS
I AM IN NO WAY AFFILIATED WITH ANY OF THE TEAMS ON THIS PAGE ... THIS PAGE IS MEANT FOR INFORMATION PURPOSES ONLY.